SPOKEN & SIGN LANGUAGE LANGUAGE
COURT INTERPRETER SYMPOSIUM - Spoken & Sign Language
Date: September 9 Location: NM State Bar Association
Registration Fee: $130.00 - Register here
**Requests for reasonable accommodations must be submitted by August 5 to Joshua Kahawai: This email address is being protected from spambots. You need JavaScript enabled to view it.**

CEUs - Spoken Languages
7 CEUs (LEP Jurors Session: 1 Ethics CEU). CEUs can be rolled over to Jan 2017-June 2019 cycle. This one-time shortened cycle is necessary in order to bring the CEU cycle into alignment with the fiscal year. Starting July of 2019, the new two (2) year period will run through June of 2021.
Per the Continuing Education Requirement: "In addition to membership in a professional association each person shall also complete twenty (20) hours of AOC-approved professional education, including at least two (2) hours of ethics related training, every two (2) year cycle." AOC will pro rate the requirement during the one-time eighteen (18) month cycle, meaning that between January 2018 and June 2019, only fifteen (15) hours of continuing education will be required.
CEUs - Sign Language: Info coming soon! - Contact: This email address is being protected from spambots. You need JavaScript enabled to view it.

Schedule
8:00 am - 8:30 am - Registration; Meet & Greet
Morning Breakout Sessions
8:30 am - 12:00 pm - Phrasal Verbs in English: How the Particles Punch Up Your Interpreting (Language Neutral) - Room: Keleher - Presenter: Mark McCaffrey, Federally Certified Court Interpreter/NM Certified Court Interpreter
Session Description: English prepositions, viewed as particles of change, make all the difference in rendering natural interpretations. Move up, move out, move over; take up, take out, take over: we see two simple verbs turned into six distinct meanings (and "turned into" makes seven). Rediscovering the agility that these phrasal verbs can bring to your everyday work is what this course is all about.
8:30 am - 12:00 pm - Aspiring and New Interpreters' Intensive Workshop (Spoken Languages) - Room: Rodey - Presenter: Eileen Spoonhoward, NM Certified Court Interpreter/AOC Language Access Coordinator
Session Description: This workshop is an interactive session which will cover the fundamentals of court interpreting including practice exercises in the three interpreting modes: simultaneous, consecutive and sight translating.
8:30 am - 12:00 pm - ASL Workshop (Sign Language) - Room: Sanders - Presenter: Eldora Morris, ASL Court Interpreter/ASL Coordinator
Session Description: This American Sign Language (ASL) - specific 3.5 hour workshop is for intermediate to advanced ASL users and for basic to advanced legal interpreting skill levels. This workshop is designed to take a closer look at ASL Interpreting in legal settings in relation to specific legal terminology and their definitions to develop a strong legal language base, maximize language access, and minimize possible misinterpretations. We will apply these terms and specific frozen text often read out-loud as we further explore some strategies of best practice for jury trials and put those together into practical application. The presenter will engage the participants in learning and on building collaborative interpreting relationships based on trust so we can collectively expand our professional network and increase our legal interpreting competencies.
Afternoon Breakout Sessions
1:30-5:00 pm - Intonation: the Contours and Music of Everyday Speech (Language Neutral) - Room: Keleher - Presenter: Mark McCaffrey, Federally Certified Court Interpreter
Session Description: Intonation is a basic but overlooked element of interpreting. The rhythm, volume, tempo and voice quality of a witness, defendant or deponent are often rendered by interpreters in a flat and featureless way, or with tonal contours that fail to convey those of the speaker being interpreted. Interpreter training, weighted far more towards semantics and memory-based performance than towards the mastering of intonation or inflection, accounts in part for this problem. Participants in this course will take a first step in remedying this shortcoming in interpreter preparation. We will use examples from actual courtroom transcripts, from live recordings of speech samples and from sourcebooks on intonation.
1:30-4:00 - LEP Jurors (Language Neutral) - Room: Rodey - Panel Presentation: Daniel García, AOC Jury Statewide Program Manager; Alex Araiza, NM Certified Court Interpreter/Language Access Coordinator; Anabel Vela, NM Certified Court Interpreter/Language Access Coordinator; Moderator: Janie Hernández, AOC Language Access Coordinator
Session Description: Overview - Interpreter protocol in jury trials - Modes of interpreting when dealing with LEP jurors - How to handle exhibits in jury trials - Jury trials with LEP Jurors/Defendants/Witnesses - The interpreter role in breaks, lunch and deliberations
4:00-5:00 pm - Remote Interpreting (Language Neutral) - Room: Rodey - Panel Presentation: Peggy Cadwell, NM Certified Court Interpreter/Language Access Coordinator; Eldora Morris, ASL Court Interpreter/ASL Coordinator; Carolina Hickey, Federally Certified Court Interpreter/NM Certified Court Interpreter; Moderator: Janie Hernández, AOC Language Access Coordinator
Session Description: The fundamentals of telephonic and video remote interpreting - Tips and practical considerations - Remote interpreting in other fields - AOC-issued guidelines
COURT INTERPRETING INTENSIVE IN-PERSON TRAINING
Date: May 6, 2017 - Location: The session takes place in a courtroom at the Santa Fe Magistrate Court; 2056 Galisteo St, Santa Fe, NM 87505 - Trainers: The session is led by AOC Language Access Services Sr. Statewide Program Manager, Paula Couselo-Findikoglu, Certified Spanish Court Interpreter and AOC Language Access Coordinator Eileen Spoonhoward, and Certified Sign Language Interpreter, Trainer & AOC Sign Language Coordinator Eldora Morris.
This 1-day language neutral training consists of intensive theory and practice in the modes of interpreting commonly used in court. Ideal candidates to this session are spoken language court interpreter certification candidates, court interpreters of Native languages and RID certified and NM Community Licensed Sign Language interpreters interested in working with the NM state courts.
The session will be conducted in English. Participants will practice interpreting in their language pair. Language specific exercises will be weaved into the sessions throughout the day.
Registration is required. Register here.
CEUs for Sign Language Interpreters: More info coming soon. Please contact This email address is being protected from spambots. You need JavaScript enabled to view it.

MORNING SESSION - 9:00 a.m.-12:00 p.m.
Court Interpreter Orientation

The Program Manager for Language Access Services welcomes participants to the session and offers an introduction to the New Mexico state courts, the language access program and provides an overview of the court interpreter certification process, examinations and the profession of court interpreting in the NM state courts.

Warm-up exercise: Intensive practice in the three modes of interpreting

Participants practice simultaneous and consecutive interpreting and sight translation. Real courtroom materials are used throughout the session to enhance participants' experience.

Remote interpreting

Participants learn the basics for interpreting via video or phone.

Interpreting for jurors

Instructors provide an insight into this practice, which is unique to New Mexico.
AFTERNOON SESSION - 1:00 - 4:00 p.m.
Mini mock trial

Intensive practice is weaved into a mini mock trial. This way, participants practice the modes of interpreting and courtroom protocols in a "real-life" setting and can experience the flow of a trial. Participants learn how to use the interpreter equipment.
Ethics: Learning from one another

Based on their observations during the mini mock trial activity, participants divide into groups according to language and work on scenarios that may present a challenge to them due to their language or culture and share their thoughts with the rest of the groups.
LEGAL CONTENT WEBINARS
The NM Center for Language Access at the Administrative Office of the Courts will be sponsoring a series of legal content web seminars. The goal of these web seminars it to boost court interpreters' understanding of legal concepts and terminology. These 1-hour web seminars are free of charge but advance registration is required. Registration will be done through NMCLA's website.
Upcoming Webinar: TBA - Topic: Guardianship & Conservatorship
Login information to join the webinar will be provided as the date approaches. Participants will need access to the internet and phone.
CEUs Approved for Spoken Languages: 1; Sign Language:Please contact This email address is being protected from spambots. You need JavaScript enabled to view it. for information on how to earn CEU's through a PINRA. CEU Requests must be made at least one week prior to the date of the activity.
Trainer: Patricia M. Galindo.Ms. Galindo is a senior staff attorney at the Administrative Office of the Courts. One of her assigned subject matters for the AOC is adult guardianship & conservatorship cases. Ms. Galindo is responsible for overseeing how state courts handle adult guardianship and conservatorship cases, primarily focusing on systemic and procedural improvements.
Description: This session will focus on the general topic of guardianship and conservatorship for adults, including an overview of N.M. statutes. Attendees will be able to learn about the many statutory requirements required for a court to determine that someone lacks capacity to make healthcare, personal and/or financial decisions for themselves. An overview of how a typical case progresses through the court system will also be included.
SIGN LANGUAGE
INTERPRETING IN THE LEGAL SETTING WITH CARLA MATHERS
Earn 2.0 Legal CEUs with this series of web seminars and 2-day in-person training. Also, webinars and in-person training can be attended separately. See links below for more information on the sessions and CEUs.
WEBINARS
This series of webinanrs will take place on the fourth Wednesday of Jan-April 5:30-6:30 p.m. and will build up to a more advanced face-to-face session on May 14-15, 2016. The webinars will be conducted in sign language. Webinars are free of charge for NM court interpreters and court interpreter candidates. Advance registration is required. Interpreters must be RID certified and hold NM Community License. Register here.
Introduction to Legal Interpreting Part 1- Date: TBA
Introduction to Legal Interpreting Part 2 - Date: TBA
Interpreting in a Criminal Setting - Date: TBA
Interpreting in Domestic Violence Settings - Date: TBA
IN-PERSON TRAINING (SIGN LANGUAGE)
Date: TBA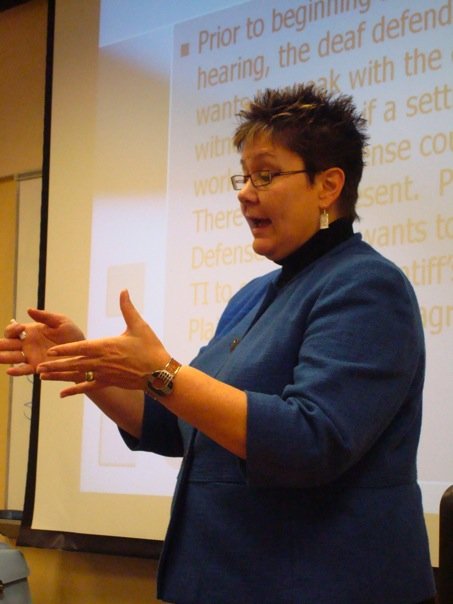 Introduction. The seminar presented by Carla M. Mathers, Esquire, CSC, SC:L (2000), an attorney practicing law in Maryland and the District of Columbia as well as a legally certified interpreter who will assist participants in understanding the requirements for working in a legal setting and the major roles and ethical precepts that court interpreters are expected to master to work in the legal setting. Interpreters will gain a clear understanding of what limitations interpreters must impose on themselves in the face of often-demanding reality of high demand and low supply due to ethical obligations and role restrictions. Participants will be afforded hands-on practice in applying the principles presented.
Goals and Objectives. The Seminar is designed to familiarize the interpreter with the unique responsibility and duties of the interpreter in a legal setting with particular emphasis on the required skills, roles and ethics required of the legal interpreter. This seminar will define a legal setting and discuss the required skills the interpreter must possess to work responsibly and effectively in the legal setting. The seminar addresses case law that establishes the roles for interpreters. The seminar will compare and contrast the varying practices of spoken language and sign language court interpreters to discover the policies behind the tension that is often felt when interaction with our spoken language colleagues.
Level of Instruction. This seminar is designed as an introduction to certified interpreters who are interested in entering the legal realm but who seek a fuller understanding of its requirements. The seminar will not to create a competent court interpreter upon completion. Rather, the seminar is designed to provide the interpreter with the tools necessary to competently assess a legal assignment. For the working court interpreter, the seminar is designed to reinforce current appropriate behaviors and to inform the interpreter of the proper protocol for working in legal settings.
The seminar is also geared to provide information to Deaf interpreters who may be novice interpreters in any setting. Because Deaf persons have had less access to traditional interpreter training and because Deaf interpreters are most frequently called upon to interpret in court, it is vitally important that this seminar is open to them. Consequently, although the level of instruction is often complex; this seminar is designed both for working court interpreters and persons who desire to work in a legal setting in the future.
Conclusion. The presenter looks forward to providing this fast paced and challenging seminar to your group of participants. Although complex, participants normally leave the seminar feeling extremely challenged and positive about the experience. It is this presenter's goal to provide a safe and encouraging learning environment to all participants and has found from prior classes that people do feel the class is a worthwhile learning event.
Location: NM State Bar Association 5121 Masthead St. NE Albuquerque 87109
Time: Saturday, 9:00am-4:00pm - Sunday, 9:00am-1:00pm.
Fees: $125.00 Register **Full Scholarships for Legal Apprentices. Contact: This email address is being protected from spambots. You need JavaScript enabled to view it. - Registration is required.**
SPOKEN LANGUAGES
SIMULTANEOUS INTERPRETING: INTENSIVE IN-PERSON TRAINING
Date: TBA
Course Goal: The purpose of this course is to provide participants with the knowledge and abilities to improve their performance in the simultaneous mode in the context of uncommon discourse encountered in judicial and quasi-judicial proceedings. All spoken languages are welcome to attend!
Course Objectives: By the end of this course, participants will:
Understand simultaneous interpreting theory as applied to court interpreting;
Develop bilingual term lists and glossaries for uncommonly encountered topics;
Research literature to increase their vocabulary;
Apply learned strategies and tactics in the simultaneous mode.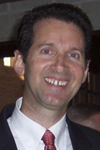 Trainer: James W. Plunkett is the Coordinator of Interpreting Services and the Language Access Program Coordinator of the District of Columbia Courts. There since 2001, he is responsible for prospecting, testing, qualifying and contracting free-lance interpreters for in- and out-of-court proceedings. He oversees the DC Courts Language Access Plan to ensure that LEP customers have the same access to justice and court services that English speakers have. He also assists in the training of new judges and court personnel on how to work with court interpreters and LEP court users. He is certified by the Administrative Office of the U.S. Courts as a Spanish and English court interpreter. He is an oral exam rater supervisor for the National Center for State Courts. He has been a rater of the oral Federal Court Interpreter Certification Examination since 2003. He worked as a court interpreter for the 13th Judicial Circuit in Tampa, Florida. He holds a Bachelor of Arts degree in General Social Studies from Providence College. He was raised in Lima, Peru.
Contact hours: On-site: two 6.5-hour sessions, totaling 13 contact hours. Participation in all sessions is mandatory to earn the certificate at the end of the course. If a student cannot attend one of the webinar sessions, student must listen to the recording and submit a report with assigned homework to receive credit for the missed session. Absence from the on-site session may prevent a student from receiving the certificate.
Fees: $150.00 Register **Full Scholarships for Justice System Interpreters. Contact: This email address is being protected from spambots. You need JavaScript enabled to view it. - Registration is required.**